Description: 1973 MCI, MC7 Motorhome - Earlier conversion by Northland

Detroit 8V92 Silver, 17,000 miles on rebuilt engine
Allison HD740 automatic transmission (upgraded for 8V92 engine)
Jake brake, good brake shoes
Largemouth turbo
Additional radiators & pump
New leveling valves
Transmission cooler w/temp gauge
Cruise control
CB w/weather channel
Alcoa's
New tires, 17,000 miles ago
Custom paint job
120V-12V house system, exterior 120V outlets
8-group 31 house batteries 3 yrs. old, voltage gauge, new engine batteries-24V system
3000 watt Trace inverter by Wrico w/battery maintainer
24V-12V equalizer
50 amp hookup, trailer hitch, large Prevost mirrors
12 KW Nissan diesel generator, 852 hrs, 2 remote switches, & battery maintainer
Engine heater, remote switch
Tachometer, engine pyrometer
Heated water plumbing compartment
2-roof Duo-Therm a/c w/heat strips & remote driver switches
2-basement a/c
Electric Amana counter top range
Large bedroom w/queen bed
5 gal. electric hot water heater
2-electric heater
2-LP gas heaters
2-10 gal. LP tanks, LP outlet for barbecue
100 gal. fresh water tank and pressure tank w/new 12V water pump
100 gal. waste water tank
New Norcold AC-LP refrigerator & freezer
Sharp convection microwave
Fantastic fan, front door bolt lock
CO & propane detectors
Hallway wardrobe & drawers
Large shower
Carpet throughout
Sound system
Cable TV hookup, 19" color TV
20 ft. Carefree awning
Runs very good, comes w/log, manual, parts book & receipts



Price: $45,000.00 US
Location: Moses Lake, WA.
Contact: Greg Hansen
Email: ghansen1943@msn.com
Phone: 509-764-0927 evenings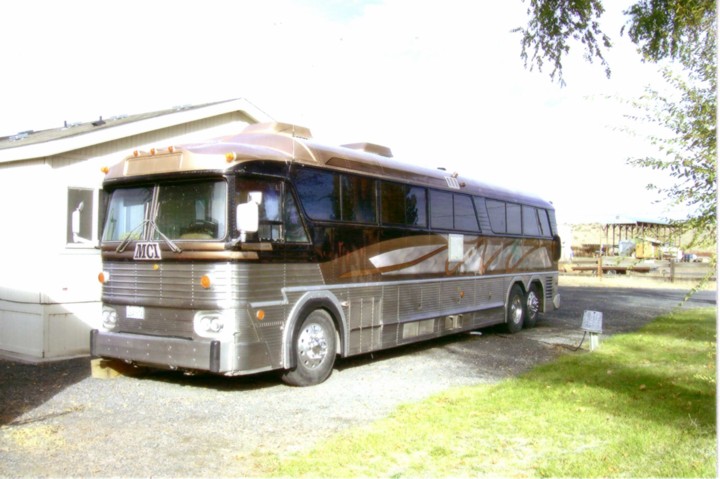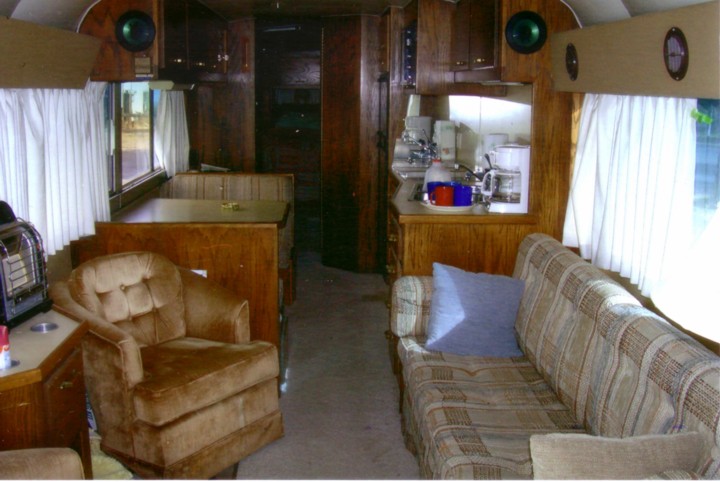 Description: 1978 MCI-8 converted in to motorhome in 2003. I put my heart and soul in to it. I reassembled a bus from ground–up and replaced frame with stainless steel tubing, spray on rigid foam insulation, insulated floors ceiling and walls (4") thick. Polished stainless steel exterior. 150 gal holding tank and 150 gal fresh water tank. Tankless water heater so you can get as much hot water as you want. Full size shower, washer and dryer. Full size refrigerator, Range, corian countertops, hardwood floors, custom made bedroom mattress –really comfortable.

Engine rebuild 60000 miles ago By bus company. Brand new clutch (manual 4 speed transmission) Brand new tires: Steering- Toyo, rest Goodyear G 286 Full synthetic oil in differential, new Air filter, two stage Racor fuel filter system, Fuel priming pump. Brand new starter motor. Electric windshield wipers.

11kw diesel Kubota power generator with plenty power to run everything on board. Two 15kbtu air conditioners, ducted air for heating and air conditioning.

Price: $55,000.00 obo - REDUCED! $39,000.00 obo
Location:
Contact: Mike
Email: bagabatona@juno.com
Phone: 801-792-8029



Description: 1972 MCI-7 40' Custom Motor Coach - The Finest Used Motor Coach Available!
149,000 original miles, Factory installed Detroit 8V71 318 HP, The chassis was purchased new from the factory without seats and tires and originally converted by Custom Coach. In 1995 the vehicle was completed stripped and converted by Texas Custom Coach for new owner.

Stainless steel frame, stainless steel skin shines like new, no dings, ripples or rust. Spare parts package includes all filters, hoses, belts, lubricants, original MCI owners manual, service manual, parts manual and manufacturer appliance manuals. Always garage kept since new. The engine is absolutely perfect, no oil or water leaks, no smoke. Please do not let the age of the chassis discourage you, as the bus has covered only 149,000 miles since new in the hands of three careful and meticulous owners. These buses are built to travel 2 million miles while carrying 45 passengers in comfort and safety.
This
is probably the finest conversion anywhere for the price!

Price: $80,000.00
Location: Sebastian, Florida.
Contact: Rick Pino
Email: Rick Pino - straycatboat@gmail.com
Phone: 772-388-8782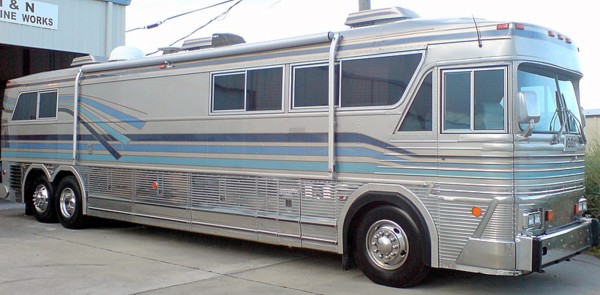 Description:

in four days!
1975 MC8 Bus 40 Ft. This Bus was originally a tour bus in New Brunswick Canada. Was featured in The Bus Conversion Magazine as Miss April 2000. Conversion was completed in 1998 by a cabinet maker in Canada. Has a Detroit 8V71 engine, 740 Allison Transmission, Jake Brake and 6 New Tires.
All Windows are Tinted Black
All Windows open
Solid Oak Hand Made Steering Wheel
2500 Watt Trace Inverter
6500 Watt Honda Gas Generator Water Cooled (Low Hours)
2 Full size Joey Beds in Storage Bays
Full Size Pull Out Barbecue Grill
Pull Out Tool Box Full Size
6-6 volt House Batteries
New Rear Air Bags (Front Bags still in box) Didn't need to be changed
2 Extra Radiators
100 Gallon Fresh Water Tank
100 Gallon Grey/Black Holding Tank
Outside Shower
Interior is all White Wash Oak
All Ceramic Floors
Sofa is almost 7 ft. long with end table at each end with 2 drawers in each.
2 Chairs on other side with Cabinet in the middle Top slide to the Chairs for eating or writing
Cabinet between Living Room and Kitchen holds Liquor Bottles
Large Counter Area with Stainless Steel Sinks 1 Extra Large 1 Smaller both very Deep Complete with hand Sprayer
6 Large Drawers under Sink Storage Lots of Cupboards
Cupboards above the Counter are Hand Made Stained Glass Doors
Built in Microwave
Built in Wine Rack with Cupboard to hang Glasses in
Large Fridge/Freezer
Big Bread Cupboard
Kitchen Table extends by pulling it out and turning it over push it in. 4 Chairs Padded matches the Sofa
In Wall Sliding Door between the Kitchen and Bath with Full Length Mirrors on both sides
Full Size Shower
Toilet
Sink with Vanity
Full Size Medicine Cabinet 2 extra cabinets for storage
3 Bunks (could be made into a closet)Storage closet for the bunks
Closet next to the Bunks
In Wall Sliding Door between Bath and Bedroom with Full Length Mirrors on both sides
Bedroom has Queen Walk around Bed
Back of Bedroom is all Dresser Top Has 4 Doors all Mirrors Bottom has 2 Large Drawers on each side 2 doors in the middle lots of storage
4 Cabinets above the bed
Runs Great, Ready to Roll
Tags expire April 2007
Price: Asking $36,000
Location: Bus is at Wheeler Gorge in Ojai California
Contact: Orlyn and Gail Hink
Email: mailto:wonderingduo@msn.com
Phone: 805-640-7655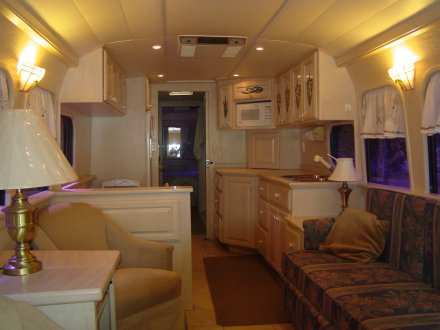 Description: 2002 Conversion. 1972 MCI MC-7: Runs flawlessly. 8v-71, 4 speed, new clutch. Tires are 85% Exterior lights converted to 12 volt. Custom rear hitch wired for trailer and trailer brakes. Diesel Marine grade 8.5 kw liquid cooled generator,6 house batteries,2000 watt inverter. Peninsula tinted windows, 8" roof raise, new exterior body skins, front and rear caps. 140 gallon fresh water holding tank,140 gallon black water holding tank (both stainless steel). Fabric sofa and chair for seating in the salon. Kitchen consists of a table and 2 chairs, the floor is tile, 3 burner propane stove and oven, microwave/convection oven, Dometic refrigerator/freezer. (fridge and freezer run on propane 110 or 12 volt) This unit has a stereo system that runs throughout the entire coach. Front and rear television, (front has DVD and VCR capability, wired for cable and telephone, roof retractable TV antenna, CB unit. Oak cabinets through out front to rear ( lots of storage space)
Three roof air conditioning units with heat strips,( all roof units run off of individual thermostats), Heating is also supplied through a 30000 BTU propane furnace.

Bathtub and shower unit, porcelain toilet, vanity, sink, oak cabinets in bathroom. Brand new high end awning, (Green)
This coach has brought my family and I great joy although it has not been used as much as we had hoped. Everything works flawlessly, we are relocating to Hawaii and unfortunately have no further use for it.
We would be willing to deliver the coach for costs. I would be happy to answer any questions you may have.
Price: $68,000 OBO 10/12/06 REDUCED! 55,000.00 OBO
Location: Big Fork, MT
Contact: Shawn
Email: mailto:bkrchk@cyberport.net
Phone: (406) 837-5086 days (406) 886-2642 evenings
This Coach is