Tip on making blocks to lift the coach
Below is a photo of my new ramps. They have been drying for six months. I will be laminating them with 3/4 ply wood on top and bottom. I glue and screw it on to make a real tight fit. I have them cut at a saw mill. They are 4 ft. long, 12 inches wide and 6 inches thick. They will hold up for many years. My old ones are 15 years old and have started to break.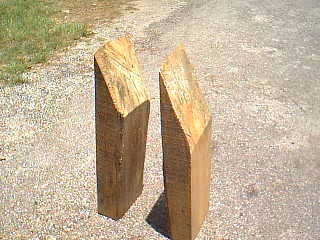 Tip on simple way to hook up your electric
I believe that all new coaches should be wired 50 amp 120 240 as most of the new parks are now wiring for this. Put a male 50 amp plug from your main to the point that you want to bring your power cord into your coach. There you install a 50 amp female plug and install it on your power cord 30 feet long or longer. Next install another 50 amp female plug and hook it up to a 30 amp plug with 30 feet or longer cord. Inside the 50 amp female receptacle you tie the two hot legs together. This then will feed 120 volts single phase to both sides of your main. On your 50 amp receptacle you put it together in the standard way one hot leg to one leg and the other to the leg this gives you 120 240 volts. Make sure that you install your green case ground as I call it to the right connection and the neutral to the neutral connection in the female receptacle. Now run your wire from your genset to another 50 amp female receptacle. If your genset is only120 you have to tie the two hot legs together as you did in the 30 amp hook up. If your gen set is wired 240 then you hook up the same as you do for 50 amps. Now when you are running your gen set you only have to plug it to the receptacle from it . If you are in a park that has 50 amps you plug your cord from main in 50 amp receptacle. If 30 you plug in to your30 amp receptacle. This is cheep and full proof you can't plug in wrong and have any problems. Now you can make what I call a cheater adapter ( shown in picture) this has two 30 amp male plugs on it and one 50 amp female receptacle. In most parks you have one 30 amp plug and a 20 amp plug in You can now plug in your 30 amp into one and the other side into the 20 amp by using a 30 amp to 20 adapter on the 30 amp plug. you now have 50 amps but only single phase, so no 240 equipment will work. But all 120 volt will work if you trip the 20 amp breaker you can switch them an the pole and most of the time it will work. Be careful that you don't make contact with the end of the lose end when you plug in the other end as it may be hot if you have any 240 thing that are on.






Tip on proving what you have constructed

As you build your conversion, take the time to take pictures of every part of your construction. Every coach at some time or the other will be sold barring a accident. I tell every one that calls me about what to look for in a conversion to ask to see pictures of how it is constructed. Once the plywood goes up, anything can be behind it or nothing can be there. If you are proud of your job photograph it. Put it in a album and keep it so you can help others when they ask about your nice coach and want information on how you did it. A picture is worth a thousand words and can make you coach worth more. It is also very helpful in case you are unlucky and have a accident. The insurance company will want to know that it was built right before they will pay you what it takes to repair it.

Tip on how to make you conversion project easier and a lot safer. Build yourself a rolling scaffold.

This has a ladder to get up on it and a back guard so you won't step off.It is 8 feet long. I used two 8 inch casters on the front and two that won't swivel on back. the casters are four feet apart for stability and the structure holds a two foot wide scaffold that can be moved to three different height so that you can work on any part of the coach. I used a broken heavy duty ladder that I found and bolted a piece of half inch ply wood on it.The casters can be bought from Harbor Freight for around $30 and you will have about the same in 2 by 4 about the same cost as a cheap ladder and a lot safer to work from. It roles very easy even on grass. I know of three different people that have fallen working off ladders on there coaches.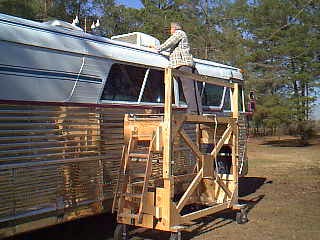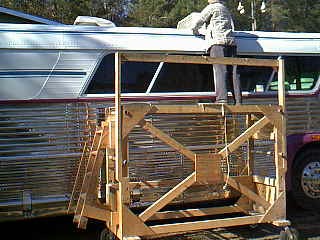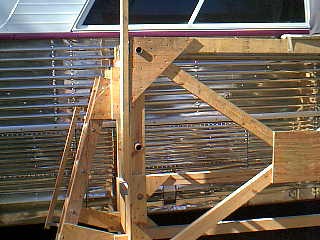 Tip on how you can put a 15 kW gen. set in air conditioner condenser compartment on a slide out and also put your coach batteries in same compartment.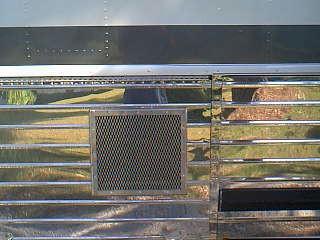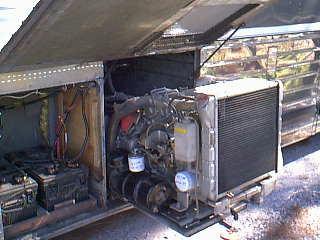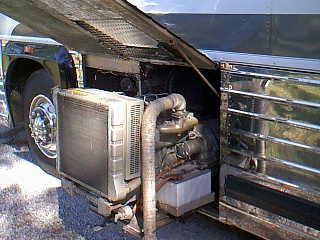 Tip on how to do a roof raise on a Eagle 10

One photos shows the front cap cut and ready to be spliced out with glass and the windows filled in. Save $300 plus shipping. Another shows the back cap spliced out and ready to be feathered out and painted. The others show the inside bracing, Using 5/8 round rod with the in between ribs. Made out of 2 inch by 1/4 flat iron tied to the angle bracing in the center. This eliminates cold and heat from migrating in the coach as they don't come in and touch the inside skin.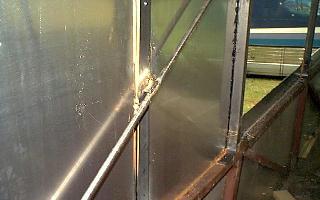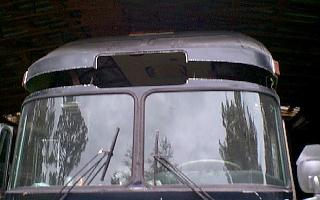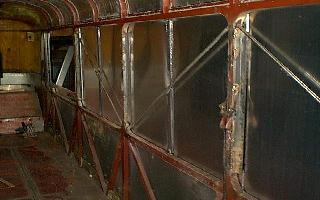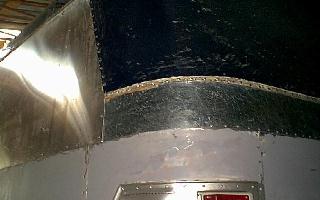 Tip on how to make your skin real tight
Here is a tip on how to stretch your metal siding when you install it. I use a 50K Btu diesel fired heater. I direct it on the area that I am riveting . Wait till the metal is real hot but not red. I drill from the inside out through the existing rivet holes and rivet top and bottom about for two feet. Then move the heater over and do it again. As it cools it pulls nice and tight. Start at the back and work toward the front. In the summer I put it in the sun and it will get so hot that you can' t touch it. But this is the only way that you can get it tight in the winter so that it will look good when it get hot in the summer and not have wrinkles in it.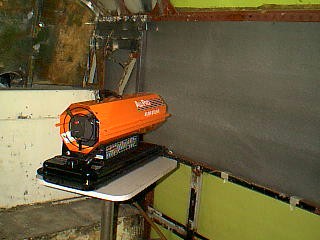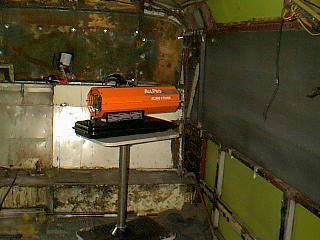 Tip on tools to install siding

Having the right tools I believe are very important when you are installing your siding.

All three of these are tools that will make your job easier and a lot faster. The first is a good drill bit sharpener. Over the years I have used all types and was able to do just as good free hand on a grinder. So wasn't to crazy to try another one. A friend of mine introduced me to the drill doctor model 750 made by Darex Corp in Asland OR.. It is a very precision tool that will sharpen all types of bits. I use 7/32 Cobalt bit that will drill S.S. real good cost is about $2.50 each. When the bit stops cutting real good I stop and change it . I keep about 5 or 6 in my pocket. At the end of the day I stop and sharpen them all . They are split point bit and the Drill Doc. does a very good job they cut better than when new. The cost about $175.

Next you need a nibbler. This is used to cut out around the Windows and any cut that you have to make on you sides. You are able to follow a straight line and they can cut up to 16 gage mild steel. If you want one that is cheap and will do several coaches you can get it from Harbor Freight for $39.95 # 36866-oaha It does a good job and will do all the cutting that you will have to do.

Next you need a rivet driver and back up to set your rivets you can again get a cheap air impact hammer from Harbor freight for $9.99 # 32940-Iaha. They will set rivet good but don't use more than 50 P.S.I. you can experiment on other than your coach to get the air right. You don't need to leave it on for more than a second or two, Hold it firm so it won't jump of the head. You will need to get a anvil to fit the rivet head. It can be bought from your rivet suppler. These are cheap tool and you don't need real expensive one if you are not doing this for a living. I use them for back up and they work.

Next you will need a pop rivet setter. this also can be bought from harbor Freight #00167-oaha for $49.99 .I bought one of these over a year ago and have set over 10 pound of rivets with it and it works ok still. So cheap is not always bad.

These tips will make your job faster and a lot better looking for very little money.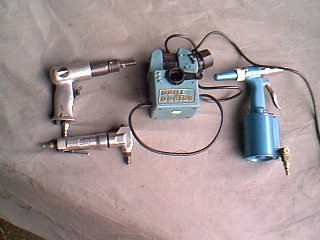 Tip on how to get a high quality drivers seat for very little money.

I have installed 4 of these in coaches. They make driving very nice, just like your car. I get them from a auto wrecking yard. They are from a Chrysler New Yorker. They are all leather and have 8 way power seat. Chrysler is the only one that has the power in the bottom of the seat. When you remove the seat all power motors come with the seat. I then take the control from the door and make a plate to mount it on the left side of the seat. All you have to do is take the drivers seat out that came with the coach and mount it on the base. By welding two 1 inch square tubes across the bottom of the seat and cutting off the brackets that did hold the seat to the floor. If you turn it slightly toward the door it makes resting your foot and leg on the gas pedal real comfortable. I get seats that are all leather and look like new for around $50. I like them better that the $1000 Flex Steel Captain set that I have put in coaches.